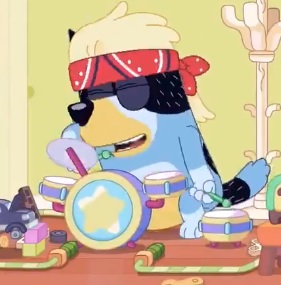 So we're meant to be on a break (it's Gotta Be Done!), but Mary couldn't resist the chance to chat all things Bluey music, and hear a seriously smart takes on why it sings to us all. 
Dr Liz Giuffre is an expert in music and sound design in film and tv, and the University of Technology Sydney senior lecturer reckons she could write a whole book about the music in Bluey. (Please do!) She's also a mum who found Bluey through her daughter's tv habits, and is hanging on for dear life amidst a sea of truly terrible toddler viewing. 
Liz recently launched Bluey into academia with her paper about how the show uses music to help hook an adult audience, presented at the Children's Media Symposium on the Sunny Coast. Get ready to grapple with diegetic and non-diegetic music, leitmotifs and more - basically, a behind-the-scenes on how and why the Bluey score works on so many levels.
Okay, now we're really on a break - see you all in the new year! (Which happens to be when large Bingo plushies are finally dropping - Jan 24 people!)
++
Gotta Be Done is ex-journos and Melbourne mums Kate McMahon and Mary Bolling, as we deep-dive on every Bluey episode, with plenty of detours into mama life, childhood memories, and everything else we're bingeing, too!
Follow us on Insta at @blueypod @marytbolling @katejmcmahon or on Twitter at @blueypodcast - and use #blueypod to join in.